I have always been obsessed with small things, details, the small print and the finer things in life.

When designing your home you can always create a more luxury environment by firstly buying small luxury ornaments, dishes and trays.
Another trick is to use items in a way that's not what they were intended for? You can use a mirror as an ornament base, a small planter as a cotton bud holder, a pill pot as a ring holder or a small dish as a sweet caddy? The key is to think outside the box.

My go to is Wedgewood Jasperware because now it's a little out of fashion the price of a pre-loved piece is affordable and will set you back only a couple of pounds 🤪. This English tableware company was founded in 1759, is the Rolls Royce of pottery and come with a Royal warrant! I have picked these up from antique fairs, charity shops and Ebay.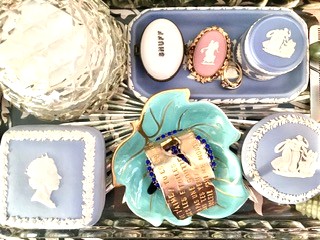 If you have a slightly bigger budget homeware brands like Hermes, Gucci, Versace and Fendi home all offer classic timeless pieces that look beautiful in your home! If you can't afford to go for a fancy lunch, why not bring the fancy lunch to your house?
Main Image; Wedgwood Jasperware trinket tray and Versace Bon Bon dish.
Secondary Image; Wedgwood Jasperware dishes and pots, Carlton ware leaf dish, Art deco antique glass and vintage art deco emerald and diamond rings, chunky gold bracelet Poem by Lancome.
Wedgwood Jasperware;
https://www.wedgwood.co.uk/catalogsearch/result/?q=jasperware
Versace Home;
https://www.versace.com/gb/en-gb/home-collection/tableware/accessories/