On the 25th May the world witnessed the brutal, senseless, unjust murder of George Floyd at the hands of a US police officer Derek Chauvin in Minneapolis, Minnesota. The cost of his life a $20 bill. This came just weeks after the murders of Ahmaud Arbery in Glynn County and Breonna Taylor, a 26-year-old emergency medical technician who was shot in her Louisville, Ky., apartment by a police officer in March. These lynchings highlighted the struggles black people everywhere are having to face every day.
A global outcry has since followed, with all 50 states in America, as well as 18 countries around the world descending on streets across the globe, with cries of enough is enough. The Black Lives Matter civil rights movement is now the biggest single uprising in global history, mobilising tens of millions of people.
This shocking incident, captured on a mobile phone by 17 year old Darnella Frazier gained more ground, not only because of the outrage of this crime but also because for the first time in history, almost the entire planet was incarcerated due to a Pandemic and able to digest information simultaneously, in an almost perfect storm.
With mobile phone communication now allowing many of us to feel closer than ever, the pandemic has seen Zoom video calls bring millions of us together. The enjoyment felt by seeing a loved one through our phones, has had obvious positive impacts on our mental health. This is because our brains experience the same neurological signals, as if our family or friends were in the same room by affecting our levels of adrenaline, noradrenaline and cortisol. It is safe to say that watching George Floyds death, had a lasting and immeasurable trauma trigger for millions of people around the world.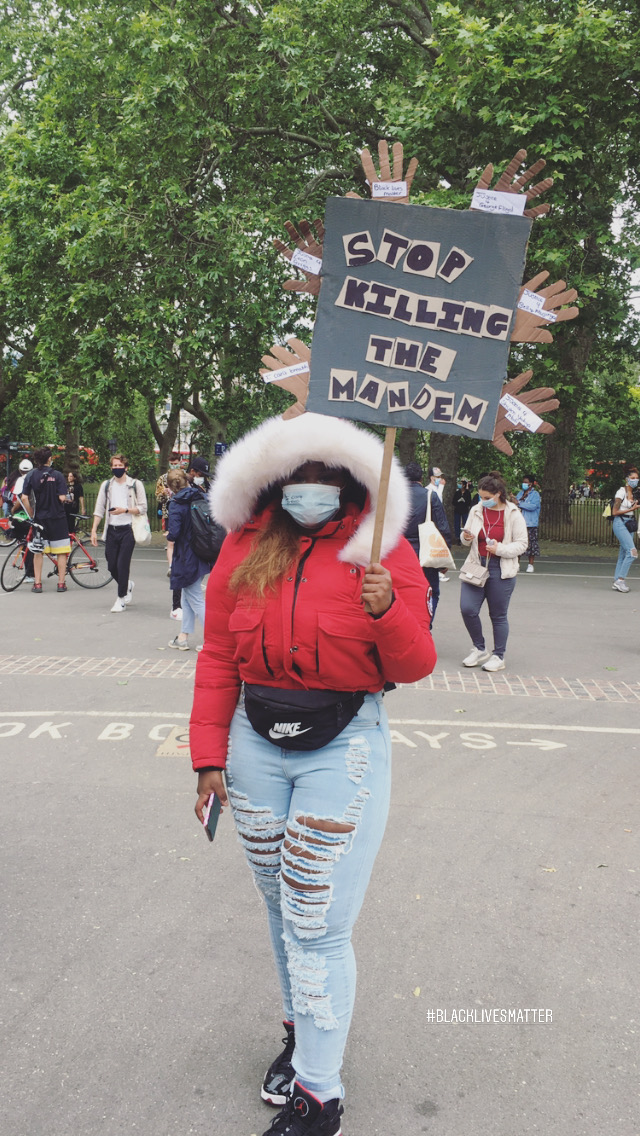 Here in the UK race relations are tenuous, with police brutality still ever present and part of a daily narrative. This racketeering and lazy quota driven policing, means that black men and women are at a higher risk of harm, aggression and intimidation. Ego driven policing behaviours prevail. Mark Duggan, Sean Rigg, footballer Dalian Atkinson and countless others have been subjected to unreasonable force, which has resulted in their deaths. The racial bias all the more present, when "the stereotyping of young black men as 'dangerous, violent and volatile' is a longstanding trope, ingrained in the minds of many in our society, as a proxy in measuring the "apparent" behaviours of black people. This phobia of black people is exhausting. What people tend to forget is that the very nature of being a minority, means we are automatically out-numbered? The chances are, that I am more likely to be scared of you, than you are of me? However, having grown up in the countryside in a small village in Essex, my connection to my white family and best friend was a blessing and to my white grandparents who raised me, I was their most precious thing.
I have often asked myself, how a minority can commit so many crimes? The answer simply is that it can't! To say #BLM is a black issue is incorrect. Now we are a global community this is everyone's issue. While Mark Duggan may have been a black man, the pain of his death was probably felt by no one more than by his white mother.
For those of you who think this isn't a social construct, here's a small snap-shot of how it works.
Being a minority, we have historically experienced displacement through thousands of years of slavery. Existing within a system that aims to maintain us as an army of workers, through limiting rights, liberties, wealth, education and resources; There is no existence of and respect for our human rights. Human rights being the fundamental principle of democracy. Without democracy a system is autocratic.
When Elizabeth Warren was running for the presidential election in America, she released a campaign video on redlining. This process was legislated to prevent black American's the right to buy homes, by denying them the loans required as collateral. This right not only prevented African American's a chance at financial freedom but fundamentally the chance of a life independent of the state. Without independence the government made them dependent.
While here in the UK, a similar system to redlining is still being used through postcode locations, also referred to as the postcode lottery! Black areas are underfunded and under invested, affecting the overall development of their communities. Over time, once the value of the land has been devalued, gentrification of those areas becomes key to driving that demographic out of the area and causes further displacement.
What happened to George Floyd not only shone a light on systemic discrimination, it also highlighted how unsafe we as black people feel, trying to go about our daily lives under the constant, imminent threat to our well being? George Floyd could have been one of us? Our father? Our brother? Our cousin? Or our son? This act was so difficult to comprehend, I found myself turning my phone off for 3 days in contemplative grief, in an attempt to understand what I was feeling. Ghanaian president, Nana Akufo-Addo, articulated the trauma of so many Africans around the world when he said that black people everywhere were "shocked and distraught". When factoring in that police brutalities against black people around the world, in every country goes without reprisal, the message to everyone in all walks of life in society, is that their unjustifiably and discriminatory behaviour towards black people will also go unpunished! For within the system, there is no existence of and respect for our human rights?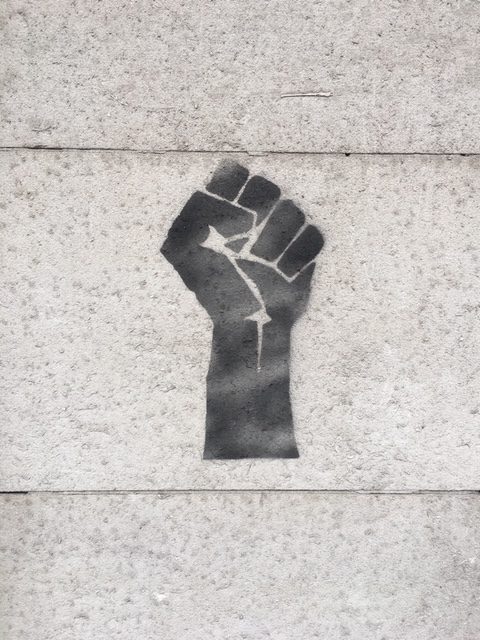 What the #blacklivesmatter movement has done is allowed many black people the strength to stand up and have a voice, for the first time in their lives. I have never felt comfortable to publicly call out discrimination I have experienced in the UK, as here it's more subtle but to say the UK is better is a lie. Our system is set up to uphold the global status quo and all over the UK, in all walks of life, black people rarely have a seat at the table. Those of us emboldened enough to highlight these discrepancies, are often silenced with the "you have a chip on your shoulder" clap back, from those who know it is happening. This bullying tactic clearly being used, instead of oppressors having the decency to listen and realise that we too have rights.
The Guardian newspapers US reporter Kenya Evelyn went further, by explaining that in a system where black people are more likely to have front-line jobs and live in more highly densely populated areas; the high proportion of Covid-19 deaths amongst the black community, highlighted existing inequities in America's healthcare and labour system. Those figures drew an astonishing parallel to the Covid-19 death rate in the UK. While America's black population accounts for 14% of inhabitants, the Covid-19 fatality rate of black people accounted for 1/3 of all deaths. While in the UK the black population accounts for 3% of inhabitants, the Covid-19 fatality rate accounts for 1/3 of all deaths, indicating seismic systemic inequalities may be much worse here in the UK?
An analogy to put this simpler. It would be the same as throwing red wine on a white shirt, then claiming you couldn't see the stain? The trade in trauma never looked so good?
Last week a government report delivered by Matt Hancock, clarified that black people had disproportionately died of Covid-19. Although our government has instructed scientist to "get to the bottom of it," it is clear that socio-economic factors, that have had black people more likely to have had to work during the Covid pandemic, instead of comfortably working from home has been a major factor. Meanwhile, a constructive "fear propaganda" strategy was used by the UK government when Covid-19 first struck in March to keep us in lock-down. This "Stay Home" campaign resulted in 80% population compliance. That's 80% of the population who were not having to work in front-line jobs, safe to stay at home!
Throughout history uprisings have come and gone. Whole civilisations have been wiped out through various atrocities, wars, plagues and famines. What makes this incident so unique was that this time, synchronised communication, meant that the global community, regardless of ethnic groups, was affected by the death of George Floyd.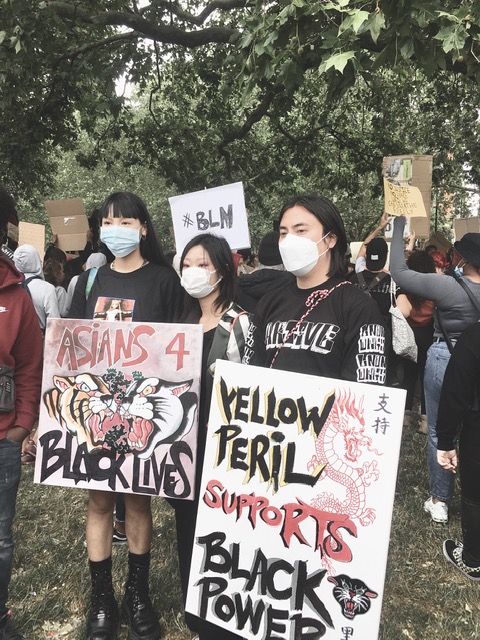 The #BLM movement, which started on 13th July 2013 has finally had it's light-bulb moment. However, comments by foreign secretary, Dominic Raab, said on behalf of Britain: "We want to see de-escalation of all of those tensions," when referencing the protests, show an insensitive, scathing, inability to empathise with the magnitude and true scale of this very volatile situation? To say I am wildly annoyed is beyond?
Our UK establishment system upholds a partisan narrative by the very treatment of our community. Back in 1999 the Macpherson report confirmed that the Met Police in the UK were institutionally racist, after failing to adequately seek justice for Stephen Lawrence after his death on 22 April 1993. For within the system, there is no existence of and respect for our human rights?
What's interesting is the age old topic of race. Author, anthropologist and sociologist Robert Carl Cohen, wrote the book The Color of Man, in which he sought to dissect the superfluous myth of race. Cohen determined that other than melanin pigments, there were no muscular, character traits, vices, virtues, or values connected to skin colour.
Since the Macpherson report, countless other black people have been murdered in the UK with very little reliable justice being served as a result. This discrimination is more obvious when considering the UK prison system.
In 2017, the Lammy Review showed that while black people comprise 3% of the overall population in England and Wales, they made up 12% of its prison population and when you consider younger inmates specifically: 48% of under-18's in custody were from black or ethnic minority backgrounds. In the US black men account for 40% of the incarcerated population but the African American population of the US, a mere 13%. Taking into account this woeful injustice, it is evident that we have an orchestrated system robbing mothers of their sons and robbing society of future generations of healthy black men. All these convictions bolster industries but for those convicted, create barriers to employment and housing due to criminal records. Poverty is not only a predictor of incarceration, it is also a frequent outcome. So it's no surprise, that black men are dramatically over-represented in the prison system.
At this critical age in a mans mental and physical development, the number of men with the potential to be victims of further assaults, traumas or rape within the prison system is very high. In fact since jails in the UK don't permit conjugal visits, sex within the system is legal and plentiful amongst a majority of inmates, according to a BBC report on prison life. In instances where sex was non consensual, prisoners were either assaulted by inmates or assaulted by staff. Furthermore, when speaking to a criminal lawyer in London recently, she confirmed that of all the gang members, she had represented, all had been victims of sexual abuse.
The belief is that rapes in UK prisons are under reported, as men feel shame and unable to articulate what has happened to them. However, Alysia Santo from The Marshall Project in the US, highlighted that the Bureau of Justice and Statistics, confirmed that between 2012 and 2015 their were an estimated 5,187 rape cases of inmates that were substantiated, of the 24,661 cases that were reported. The unimaginable impact incarceration has in facilitating trauma is undeniable. Imagine how much trauma was experienced by every single prisoner?
In the case of Alcock v Chief Constable of South Yorkshire Police [1992] 1 AC 310, the law established that proximity to a crime determined whether a person could claim compensation for Post Traumatic Stress Disorder, as a primary or secondary witness. This case became so important because of the horrors that had occurred at Hillsborough football ground on the 15th April 1989 in which 94 people were crushed to death on national TV. Many survivors and bystanders subsequently suffered PTSD, a condition which blighted their lives as a direct result of what they witnessed. This case established that to claim compensation a person had to have "been there," or "actively involved in the immediate aftermath."
What Hillsborough sort to prove, was whether being in direct proximity to the football ground at the time of the disaster, was enough to determine a case for compensation? Those who watched the drama unfold on television may also have been suffering from some form of PTSD. The link between viewing a crime and the impact on mental health regardless of proximity could not be ruled out. In reality, the National Library of Medicine epidemiological data suggests that PTSD may develop in response to traumatic events, such as domestic violence, road traffic accidents or assault, which are so widespread that they are not 'outside the range of usual human experience'. This data also confirmed that a threat to physical integrity was a common element of trauma. By the same token, the international outrage felt by all who witnessed George Floyd being murdered on the 25th May, may have had a more lasting affect on the mental health of millions of us around the world, than we care to realise?
Watching those 8 minutes and 46 seconds of life taken from poor George Floyd as he repeatedly gasped "I can't breathe", coupled with feelings of the helplessness of continuous injustice added fuel to the fire. Is it any wonder that Reverend Al Sharpton compared what happened to George Floyd at his memorial service, to the wider social context of being black. Living within an oppressive establishment system, that evidently seeks to hold black lives, back, down or even behind bars. And if you don't think that dishing out daily doses of fear, through police injustice and systemic brutality doesn't have a lasting and profound impact on a person's life and mental health, think again.
In fact The National Institute of Mental Health (NIMH) states that the disorder can be triggered just by seeing a dangerous event. Those suffering from PTSD will go on to involuntarily relive the trauma through flashbacks, nightmares, feel grief-stricken, experience anxiety and find it difficult to relax, experience feelings of helplessness, extreme fear, irritability, angry outbursts, insomnia, difficulty concentrating, poor impulse control, somatization, chronic dissociation, depression, self-harming, difficult or destructive behaviour, such as drug misuse or alcohol misuse, avoiding things or groups of people related to the traumatic event, anhedonia, or in children may re-enacting the traumatic event, again and again through their play.
PTSD effects cognition and mood symptoms responsible for the part of the brain that makes us feel safe. When affected by trauma a person can feel alienated or detached from friends or family members, communicating less with other people, who then find it hard to live or work with them. This in turn leading to housing problems and serious financial difficulty. They also loose interest in activities they once enjoyed, and may also develop disruptive, disrespectful, or destructive behaviours as a result of their traumas. While the looting and vandalism has been an outward expression of the frustrations felt by the protesters in America, these actions when considering PTSD could be considered a public trauma response.
Other secondary problems associated with PTSD range from, an inability to have loving feelings or express affection toward others. A sense of a foreshortened future; for example the suffered does not expect to have a career, marriage, children, or a normal life span. In addition, feelings of hyper-vigilance can be debilitating for a persons social progress. Sufferers of PTSD may also experience feelings of isolation, shame, guilt, reduced libido, depression and suicide. If these symptoms are not treated, there's very little hope for that persons future.
In youngsters the catalyst for PTSD is severe neglect as a result of limited parental interaction. This may be due to a parent having to work long hours in a low paid jobs? Abuse as an adult or as a child also have their own impacts. Severe, repeated, violence such as torture or abusive imprisonment, violent personal assault, sexual assault, physical attack, robbery or muggings are also factors that can negatively affect a demographic group. These factors are much more prevalent in areas of poverty. We know neglect is not colour specific but it is opportunity related.
Although PTSD is usually associated with retired or active military servicemen and servicewomen, this crippling condition is also affecting millions of black and ethnic minorities, who may be living with this condition without even realising. Witnessing police brutality is key because it serves as evidence that the black community can not be reliant on the law to keep us safe. As safety is a fundamental human requirement, the idea that we can be victimised by a system set up to protect us, strikes anxiety into the very fabric of black communities. The evidence is that lawless law makers perpetuate injustice, with little recompense from the authorities because it's the authorities that is perpetuating injustice.
When considering stop and search tactics, and police harassment, these daily micro aggression's, while in isolation can be coined "routine checks or searches," are actually designed to cause a constant feelings of fear and panic to those who experience these tactics. By dishing out daily doses of traumatic experiences, disproportionately to a section of society, the establishment can keep that social group, fearful, anxious, devalued and demotivated. In fact, a similar fear propaganda strategy was used by the UK government when Covid-19 first struck in March to keep us in lock-down.
Some might think that some of these scenarios can not be attributed to colour but that notion would not stack up? Keeping a demographic group at the bottom of the social structure becomes much easier, if you put some of these traumas in the way of that communities progress.
Studies have shown that people who experienced traumas went through mental numbing, in an attempt to block out what happened to them. Being a victim of poverty related crimes such as muggings, stop and search antagonism, repeated social discrimination, physical abuse or witnessing a crime or sudden death of a friend or loved one, were all contributing factors that could trigger PTSD in a person. While these factors can not be associated solely with black people, unemployment, incarceration, torture (police brutality), social stigma, constant and widespread discrimination in the workplace with limited scope for career progression, are factors that we (as black people) have to endure every single day, at the hands of people who don't look like us? This treatment may not be linked to PTSD but the impact on our mental health is without question.
Other catalysts for PTSD are severe neglect but not all neglect is elective. There's no doubt that parental interaction plays a pivotal role in a child's development. Many low income workers or food poor families, (regardless of race) are simply unable to provide the right nurturing environment due to socio-economic constraints. As black people, we too must confront the ways in which our actions within the social construct, lead to differential treatment of black children, even if done unintentionally?
Jack P. Shonkoff from the Centre of the Developing Child at Harvard established that built into a child's biology, is the need to have healthy responsive interactions with adults. The fact that during this lock-down we've recently witnessed scores of high profile celebrities on social media doing 'the candy challenge' with their children indicates the importance of that early childhood bond. This challenge was a small reminder of how parental communication had a positive impact on a child's control mechanisms.
This back and forth 'serve and return' interaction, literally shapes the architecture of the brain. Children who's parents are absent on a regular basis, lack this critical interaction, experience "chronic under-stimulation," which in turn has a direct impact on a child's healthy development. If a parent is continuously absent, the likelihood of a child living with "severe neglect in a family context" is much higher. Prolonged periods of in attention, lack of responsiveness, not being fed or bathed enough or having basic needs met, as a result of parental absence, has a lasting impact on both emotional and mental development. Put simply, children from impoverished backgrounds had a higher rate of developing complications in later life. And that's if the child is even born in the first place?
UK statistics on childbirth within the healthcare system show that the chance of death is 1 in 2,500 for black women according to the UK Confidential Enquiry into Maternal Deaths. But the rate was five times smaller for white women between 2014 and 2016. With black women at higher risk of preeclampsia and a number of other health complications, it's clear that care within the healthcare system is not being evenly distributed. The US is not much better with a rate of death amongst black women 3-4 times higher than their white sisters during childbirth. A report by the BBC on child birth inequalities, also noted that black middle-class women in the US were more likely to die in childbirth than their white working-class friends.
While the risk factors around neglect are present in every ethnic group, the Covid-19 death rate stats, serve to highlight economic disparity. Poverty, through lack of career progression, long working patterns and limited opportunities for black people have promoted a system not geared towards creating a healthy, flourishing ideology. All these systemic obstacles interfere with relationships and can negatively impact a persons life.
Economist Dora Costa and her team at the University of California in LA conducted an extensive study on the trauma of Prisoner of War victims. Their study determined that victims of trauma went back into society with higher rates of impaired health, worse job prospects and a shorter life expectancy than those in POW camps who didn't experience trauma. The teams study went on the establish that far from being an isolated individual experience, the effects of trauma were hereditary, affecting generations of one family by altering the DNA in the Male's Y chromosome. Their rodent study, (while still under review) went some way to ascertain that the effects on the brain were not only long lasting but if went untreated, could have a crippling effect on multiple generations within a family.
A report from data compiled by the National Institute of Health found that men tended to experience more traumatic events than women but women were more likely to develop PTSD. What both studies highlighted was that, while a mother may have a higher rate of PTSD, the father can pass it on. Therefore, it is safe to assume that a community of people, subjected to generations, if not thousands of years of brutality, may still be living with the effects of that today.
It would be incorrect to conceive that slavery started 400 years ago. Ancient Egyptian hieroglyphics depicted images of slave markets with Nubian slaves waiting to be sold, as far back as the New Kingdom (1550-1175 BC). Based on neurology and Dora Costa's teams data, this trauma would have been past down for generations possibly for thousands of years. When you consider that the first tangible link to humanity started around six million years ago, slavery is still a relatively modern human concept. However, one can no longer deny that thousands of years of systematic genocide, constant brutality, disregard and systemic abuse of black people, the world over, could not have blighted our community. The impact and trauma of the slave trade would therefore, still resonate in the lives of millions of us even today.
For people in power to say they want to get to the bottom of the problem and make changes that stop prejudice around the world, it is clear that dishing out daily doses of injustices, in all walks of life affects the mental health of black people, which is not to be taken lightly. But this rhetoric goes against the social structure that make low level workers of black people. To make the changes needed to stop discrimination, parliaments would have to appoint more black and ethnic minority law makers, bankers, directors and leaders to allow progress in the upper echelons of society. School curriculum's would have to change, adding the contribution black people made to the creation of the empire. Honesty about the atrocities carried out by the western world, which enabled them to monopolise wealth, would also need to be transparent. The education of all would be reflected in the message with no more whitewashing of history as we know it? College admissions would have to be levelled for all, not just those from advantaged backgrounds. In the UK, Oxford, Cambridge and a host of other universities, would have to scrap their ethnic omissions and the government would have to show an active commitment to keeping all of us safe.
What Black Lives Matter represents is not that white lives don't matter. As a black woman raised by a white step-father, I would be the first to contest that. But this assumption that black people are second class citizens is outdated and needs reform. What having a white father taught me was that the human spirit has an amazing capacity to be inclusive. We travelled around the world and I have really tried to live my life as freely as a can but I am privileged even in that mindset.
As a community we need to see all industries improve but given that it's 2020 this shift has been slow. In the fashion industry, broadcasting, news, magazine, TV, music, film, beauty, corporate, IT, banking, housing market, big business and many other industries in society, there is still an outrageous lack of diversity. It's hard to see how things are improving. The lack of diversity in industries where black people can be paid enough to progress or attain the same lifestyles as their white counterparts, (even with the same skills or experiences) are systemic factors. Common knowledge surrounding the origin of a candidates name on an job application, as some how determining the likelihood or unlikelihood of hire, has not gone unnoticed.
While counties like the UK don't openly practice the "Cast" system (pertaining to skin pigmentation), counties like India and America have filtered this pernicious narrative of skin tone being a commodity into mainstream culture for centuries. This tonal bias has sought to create status anxiety around race and colour. The reason behind this narrative was that slave owners who used to rape black women, then went on to have lighter skinned offspring. Those children were then perceived as being of greater value. Western society therefore upholds this narrative without understanding the root cause of their prejudice? So when society looks at someone lighter they find them more acceptable. Music videos boast lyrics about the "light skin girls" without truly understanding the origin of this fantasy. It's because we have been brainwashed into thinking that a lighter existence is somehow closer to the agenda gene pool! On the flip-side the current trend of lip fillers and buttock enhancements only perpetuate this commodification of the black aesthetic. The cosmetic industry borrows the fuller figure, bigger lips and promotes tanning creams, as a result of fetishizating what it looks like to be black.
Although many people may fail to see the irony, Sarah Baartman, an African woman born in 1789, was lauded as a freak show for her voluptuous frame. A commercial cash cow, she was subsequently fucked by men all over France for pure entertainment. Sarah was pimped out, in a way which goes some way to demonstrated how debased our appearance has been socially perceived in past history. Sarah Baartman died on 29 December 1815 aged 26, of an undetermined inflammatory ailment and possibly smallpox. There have also been suggestions of syphilis from being raped at will and/or pneumonia. When she died she had her brain cut out and her body was dissected. To add insult to injury, her mutilated body, her brain, skeleton and sexual organs remained on display in a Paris museum until 1974. Her remains weren't repatriated to South Africa or buried until 2002. This sexual fantasy is still very much part of modern western society, with up to 5 million Italian men visiting North African prostitutes who work in Italy every single year. The casual ease in which western society dismisses black characteristics and utilises at will, is all part of this incredibly intrusive bias and let's not mention the big black dick?

While a lot of companies in western cultures still have a long way to go when advertising goods and services to black people, their ignorance is unfounded. This disparity continues with western cosmetics brands still playing catch-up when it comes to catering to our needs; despite a WWD report released in 2019, claiming that the global colour cosmetics industries annual sales, were around $48.3 Billion each year! However, availability of products we need is still an issue and let's not talk about our average proximity to a hair care product? Put simply. We're in a Pandemic and I have been unable to source any black hair care products in central London within a 5 mile radius, in 3 months? If some say we don't have hills to climb, this is the black experience in an edible chunk?
Western marketing also serves to perpetuate this narrative, with a global push towards a concept of objective attractiveness through strategic marketing. A study on social cognitive and effective neuroscience, published in 2016 by the Oxford Academy, confirmed that our judgements of others' attractiveness guided decision-making, in a broad range of domains, including prospective mate and peer selection, professional choices and even beliefs about intellectual ability and moral character? If society views as a result of careful marketing is that black people are less attractive, we are less likely to be selected for tenure in all walks of life.

Luxury houses are even slower. Luxury cars, art, leisure, fine jewellery, luxury fashion and watch brands fail to see the spending potential of the black consumer. In recent years brands like Bvlgari, Van Cleef and Tiffany have started to recognised the value of black money, using black models to highlight their inclusivity. Louis Vuitton leads the way, however, brands like Cartier, De Beers, Boodles, Rolex and countless others, fail to have any visibly representations or association with black people through any avenue of advertising. This despite some of these brands plummeting African economies by sourcing their precious minerals from there? Strange that the very diamonds that are not advertised to black people, actually originate in our back yard! This undeniable truth negates the fact that millions and millions of black lives have been lost through the brutalities of white colonialism and systematic genocide, in a bid to source diamonds and gold. This global marketing strategy seeks to perpetuate a narrative that black people don't deserve the advertising focus because black people do not have the capacity to be able to afford it!
In more recent historical times, the atrocities of the holocaust (which killed 6 million Jewish people), was one of the most horrendous periods in modern times. One that governments around the world vowed would never happen again. However, the holocaust of black peoples, systemically detained, imprisoned and tortured is in itself it's own atrocity and is visibly happening everywhere.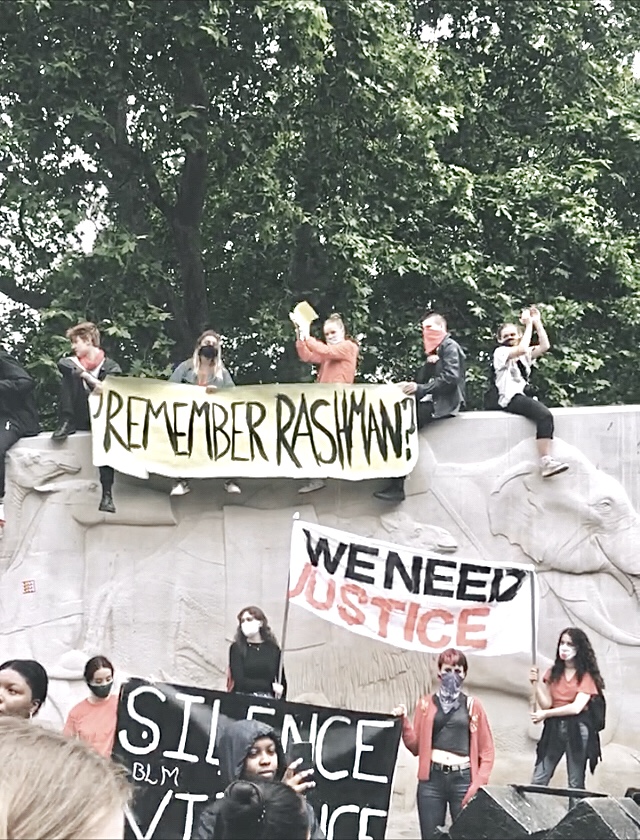 My experience in the UK of employment discrimination is wide ranging but here is an example of just one subtle instance. I was once told by an recruitment agent around 6 years ago, that the company I worked for at the time, wasn't prestigious enough for her to put me forward for a luxury management job. What she didn't know was that my boss had told me he had the same agent and was also looking to move on. When it came to doing the presentation for the interview, his poor level of English meant that he was unable to complete the prerequisite task. He asked me to do him a favour, so I did it for him. He submitted it. He got the job. I never worked with that agent again. While I liked him enough not to be offended, the notion that I was incapable of doing that job myself was unfounded. Pretty soon afterwards he was fired but he was handsome. I now have a management job in a company that values my contribution and respects my ideals.
In another instance, I was told by a recruiter in an interview that regardless of what I looked like or how I dressed, I would always be considered a 'poor woman from the ghetto?' The prejudice in that statement stayed with me, in every interview from that day.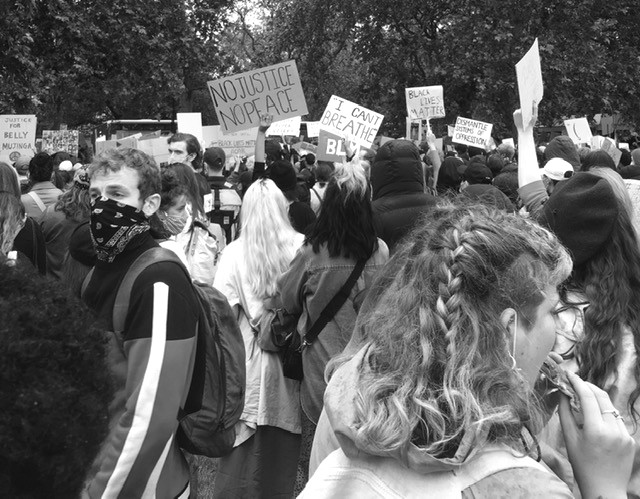 In context, George Floyd's murder was not just an affront to millions of black live that strive to matter, it unleashed a fury in the hearts and minds, of millions and millions and millions of people around the world. What Derek Chauven did was show his compliance to the "cause" in the worst way imaginable. His actions unleashed global hysteria, unseen by any other single act in modern day history. My honest feelings are that as a global community of beings, calling each other racists will only strive to further dismantle, this urgent need for social peace. For the message will be lost, in an attempt to minimise racism as a political correctness issue? This underlying civil war between blacks and whites must somehow come to an end. We have made progress, Oprah, Obama, Nelson Mandela, Tiger Woods, Serina Williams and many more but these people went against the grain and fought to prove their point.
Nelson Mandela put it plainly when he said "No one is born hating another person because of the colour of his skin, or his background, or his religion. People must learn to hate, and if they can learn to hate, they can be taught to love, for love comes more naturally to the human heart than its opposite."
Society could never be a utopia and enlightenment is always a choice but as a person of colour, I acknowledge that we will get nowhere by blunt insinuations of racism. Those of you who have been complicit, in the immoral treatment of others, know who you are. The test of our social commitment to change will be to empathise with one another, have a global moral conscience to keep each other safe and respect the fundamental differences, that make all our lives worth respect. In life we have one chance, it's pot luck but it's the one we've got and no matter what we look like, or the injustices of our pasts, a right to life is a right to life. While the scares of colonialism seem to remain ever present, the concept that, one day, the new world order could give rise to our freedoms, as black human beings, is a vision I hope society is not willing to forsake. The truth is, it will take us all getting to know each other, so why not start a conversation? Hello, My name is Miriam and I love tea.
Black Lives Matter Related Articles;
https://www.donsidepiper.co.uk/read-this/black-people-are-twice-likely-die-police-custody-uk-according-statistics-2876490
https://www.theguardian.com/commentisfree/2020/jun/04/systemic-racism-police-brutality-british-problems-black-lives-matter
https://www.theguardian.com/commentisfree/2020/jun/03/racism-george-floyd-britain-america-uk-black-people
Post Traumatic Stress Disorder or PTSD:
https://www.ncbi.nlm.nih.gov/books/NBK56506/
https://www.thejusticegap.com/hillsborough-law-post-traumatic-stress-needs-changed/
https://www.nhs.uk/conditions/post-traumatic-stress-disorder-ptsd/symptoms/
https://www.nimh.nih.gov/health/topics/post-traumatic-stress-disorder-ptsd/index.shtml
https://www.rcpsych.ac.uk/mental-health/problems-disorders/post-traumatic-stress-disorder
http://www.contrast.org/hillsborough/ptsd.shtm
https://www.mind.org.uk/information-support/types-of-mental-health-problems/post-traumatic-stress-disorder-ptsd/symptoms-of-ptsd/
Hereditary Trauma;
https://www.bbc.com/future/article/20190326-what-is-epigenetics
Redlining And Mortgage Discrimination In The US
Images taken on Wednesday 3rd June 2020 London Hyde Park